North East India has so many scenic and beautiful places as compared to other parts of India. In northeast India, you will see lush green peaks and valleys, snow-capped breathtaking mountains, and beautiful forests. 
Known for its beautiful and scenic places, northeast India should be at the top of your bucket list. The exotic wildlife, the pretty waterfalls, and the amazing landscapes will have you craving for more.
On top of that, northeast India is really safe for vacation and holidays as compared to other places in India. The seven sisters of north east are Manipur, Assam, Meghalaya, Tripura, Mizoram, Tripura, and Nagaland.
They all share their borders with one another and Sikkim is also sometimes called, "The brother" because it is separated by Bhutan from the seven sisters. There is so much to explore, so many activities to do in every state of northeast. 
The best places to visit in North East India are:
Cherrapunji
It is one of the most beautiful places in entire North East India.
It is also popularly known as the abode of clouds. If you are someone who loves monsoon then, you should visit this place because you will fall in love with this place.
 The most exotic and famous part is the living roots bridge of Meghalaya. 
Dawki
Dawki river in Meghalaya boasts as the cleanest river in whole Asia. A boat ride or even a swim in Dawki River will be enough to clear your head from any stress. 
The crystal-clear water, the weather all things combined will be a treat to your eyes. If you are someone who loves water, then the Umngot river or Dawki River will be an ideal place for you.
Loktak Lake
Located in Manipur, Loktak is the largest freshwater lake in North East India. 
It is located in a small town in Manipur, called Moirang. The Loktak lake is also famous for its floating park, called Keibul Lamjao. There are floating islands in this lake called Phumdis which is also a very special tourist attraction. 
Mawlynnong village
Shillong is called The Scotland of the east because of its beauty. And it is home to many more beautiful places in northeast India.  
Mawlynnong village is a village in Shillong that was declared as one of the cleanest villages in Asia. The way people live here is really inspiring. Upon that they are very welcoming and friendly to tourists and everyone alike. 
Umiam lake
It is one of the most beautiful lakes of North East India, located in Shillong. You can definitely give a try to the water sports activities and adventures available here. 
Pelling
It is one of the prettiest hill towns located in Sikkim. It is in the foothills of Khangchendzonga. The weather and the outdoor activities are really exciting. 
Gangtok
It is the capital city of Sikkim. And is most famous for its mighty snowcapped mountains. You can visit Tsomgo Lake, Baba Harbhajan Singh Temple, Nathula Pass while you are in Gangtok.
Majuli Island
It is located in Assam and is part of the Brahmaputra River. The flora and fauna found here is really pretty and interesting. It is slightly unconventional to visit Majuli Island but every year it manages to attract many tourists. 
Ravangla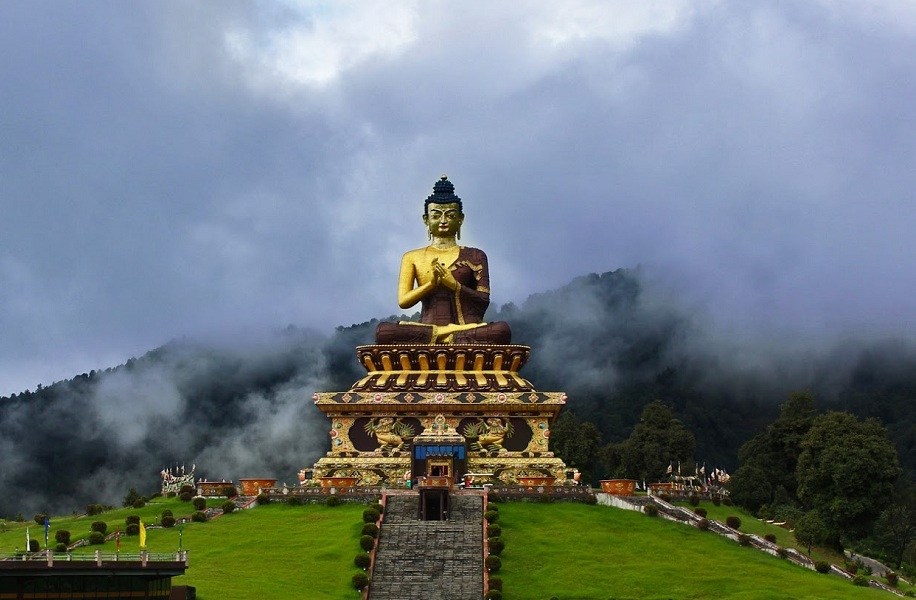 It is one of the prettiest places in Sikkim. You can find peace and tranquility here while bird-watching. And definitely do not miss the sunrise view from Ralang Monastery.
Jaintia Hills
Jaintia hills attract the highest number of tourists in Meghalaya. If you are an adventure lover, you can go trekking and also explore all the beautiful caves here. 
Tawang Monastery
Tawang is already one of the most beautiful and best places to visit in North East India. Upon that, visiting the Tawang Monastery will give you an enlightened view of your life. 
It is so peaceful and serene that you will want to visit every time you are in Tawang. There are about 800+ sculptures in the monasteries of Tawang.
Nuranang Falls
It is also known as the Bong Bong Falls of Arunachal Pradesh. You can experience complete peace and tranquility here. 
Kaziranga National Park
Declared as a National Park in 1974, Kaziranga National Park is most famous for its one-horned Rhinoceros. It is in Assam and the park is a pride of India with wildlife roaming freely in its own habitat. 
There are lots of activities like Jungle Safari and visiting of gardens and biodiversity parks you can do here. 
Nathula Pass
It is located in Sikkim on the silk route. The place is really beautiful and is famous for playing an important role in making the economy of India stronger. 
Elephant Falls
It is located in Shillong, Meghalaya, and is one of the prettiest places in Shillong. Every year it attracts a huge number of tourists because of the scenic beauty and other activities done here. 
These are the 15 best places to visit in North East India. North East people are really welcoming and kind. They are proud of their heritage and culture. If you are a tourist visiting the northeast states, please help us maintain its beauty.